theateR husband/theater wife, Project
Erin Mallon & Bixby Elliot
Theater Husband/Theater Wife Project
YOU ARE CORDIALLY INVITED TO THE MARRIAGE OF TWO THEATER ARTISTS!
Erin Mallon and Bixby Elliot met in 2011 and immediately started dating - well - theater dating. It all started rather innocently; sharing work, exploring each other's texts, debriefing...but then things got serious when they launched The Brooklyn Generator (a developmental writing program that supports writers in the creation of full length plays). Over the years their relationship deepened and it was clear to all parties that this wasn't a short term collaboration - so they took the plunge and made it official. There were proposals. There were tricky conversations with real husbands and even children. At some point a Facebook post announced to the world this artistic "matrimony". Now Erin and Bixby are ready to take the next step in their relationship; they are proud to announce the birth of a theatrical endeavor - Theater Husband/Theater Wife Project!
This brand new, bundle of excitement is created to bring the work of Erin and Bixby to life, but who knows where it will take them! They hope you will join them in celebrating this next step in their partnership and come see their new "babies" - brand new plays by Erin and Bixby produced at The Back Room at Jimmys No.43
Spin through this site and learn more. Sign the guest book for updates. Stay tuned for more news as things move forward!
Upcoming Shows by TH/TW Project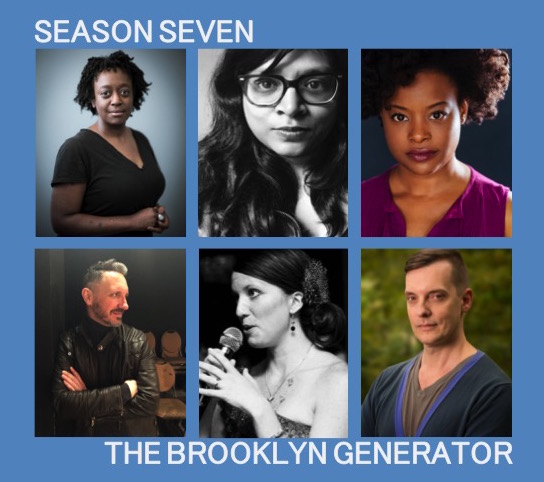 Season Seven of The Brooklyn Generator
The Christmas in July Spectacular
Join us for a festive holiday party and unwrap some brand new holiday plays from the minds of Erin Mallon & Bixby Elliot. July 29th & 30th at The Tank.
Past Shows by TH/TW Project
an interactive solo piece that works a bit like a freaky biblical Rocky Horror Picture Show!
written by Erin Mallon/directed by Mark Cirnigliaro with Becca Landis Mclarty
If On A Winter's Night...
a quest for a play brings two unlikely strangers together in this piece about love and theater!
written by Bixby Elliot/directed by Julie Kramer
with Kaaron Briscoe, Zach Fifer, Charlie O'Leary and Lori Vega
Guest Book
Sign OUR "GUEST BOOK" and we will KEEP YOU UPDATED ON ALL THINGS TH/TW Project!
The Brooklyn Generator is Erin and Bixby's first collaboration. The Brooklyn Generator was originally started by Erin when she began making plays back in 2010 with a rotating group of 6 playwrights and 12 actors who gathered once a month on a Friday night to create six 10-minute plays in less than two days. Erin continued this way for 2 years and they collectively wrote about 140 short plays. Then, after a hiatus, Bixby and Erin put their heads together and asked each other "how can we adapt this model to support the creation of full-length plays?"
Cut to June 2014 when they relaunched The Brooklyn Generator with six great playwrights. The Generator supports each other over a six month period during which each playwright takes a turn being "Playwright-of-the-Month," bringing actors and directors to the table to create brand new full-length plays in less than 30 days.
Here are the writers who have worked with The Brooklyn Generator so far:
Mallery Avidon, Eboni Booth, Ed Cardona Jr., Guadalís Del Carmen, Bixby Elliot, Georgina Escobar, Ken Greller, Amina Henry, Stephen Kaplan, Erin Mallon, Sarah Matusek, Julian J. Mesri, Eric John Meyer, Charlie O'Leary, Noah T. Parnes, Lia Romeo, Stacey Rose, Nandita Shenoy, Diana Stahl, Melisa Tien, Juan Francisco Villa and Nathan Yungerberg
If you are a writer and interested in submitting yourself for consideration for Brooklyn Generator - please click HERE to share your info and work!
For more info go to our Brooklyn Generator Facebook Page
We are excited to announce our Seventh Season of The Brooklyn Generator (at The Tank) kicking off in January 2019. Our writers for Season Seven are: Kaaron Briscoe, Naveen Bahar Choudhury, David Hilder, Daaimah Mubashshir as well as Erin Mallon and Bixby Elliot.
Readings Dates are as follows:
January Playwright - Erin Mallon
Reading: Sunday February 3rd 3:30pm
February Playwright - David Hilder
Reading: Sunday February 24th 3:30pm
March Playwright - Naveen Bahar Choudhury,
Reading: Sunday March 31st 3:30pm
April Playwright - Kaaron Briscoe
Reading: Sunday April 28th 3:30pm
May Playwright - Daaimah Mubashshir
Reading: Sunday June 2nd 3:30pm
June Playwright - Bixby Elliot
Reading: Sunday June 23rd 3:30pm
Wedding Party
We are so grateful to the following people for being official members of our wedding party
Hannah Bos, Writer/Performer and Founder of The Debate Society
Paul Thureen, Writer/Performer and Founder of The Debate Society
Anna Baryshnikov, Actor (Superior Donuts, Manchester by the Sea)
Richard Masur, Actor (Girls, Younger, Transparent, The Good Wife)
Stephen Brackett, Director (Buyer & Cellar, Percy Jackson: The Lightning Thief)
Kevin Kane, Actor, Producer, Co-Artistic Director of The Collective NY
Paul E. Davis, Calleri Casting
Amanda Duarte, Creator and Host of Dead Darlings
Jonathan Silverstein, Artistic Director of Keen Company
Michael Cyril Creighton, Actor (Spotlight, High Maintenence, Jack in the Box)
Katie Carnahan, Product Area Liaison - Google
Jumee Song, Senior Project Manager - CS for All
Melanie Maras, Writer/Comic/Storyteller
Lindsay O'Hara, Tech Recruiting Lead - Google
We also want to show our support for several "Friends of TH/TW" - please check out the work they are doing